FREE PRECIOUS SOUVENIR
MINI MEDALLION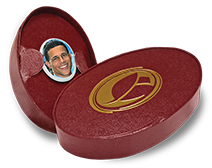 When you order a porcelain medallion, we will send you FREE OF CHARGE a MINI MEDALLION, also made of porcelain, in an attractive gift box. This MINI MEDALLION measures 2½ cm x 3 cm (1 in. x 1-1/4 in.).
This is our way of saying thank you for thinking of us.
You can order ADDITIONAL SOUVENIR MEDALLIONS in various formats for your family or friends through our product adviser and distributor. For more details, go to the PERSONAL Collection sub-section under PRODUCTS.